Providing eHopper Support Access
Overview
If you are having issues with your account, you can provide eHopper Customer Support with temporary access by sending them a temporary password.
Instructions
1. In the left navigation menu, click on Settings--->eHopper Support Access.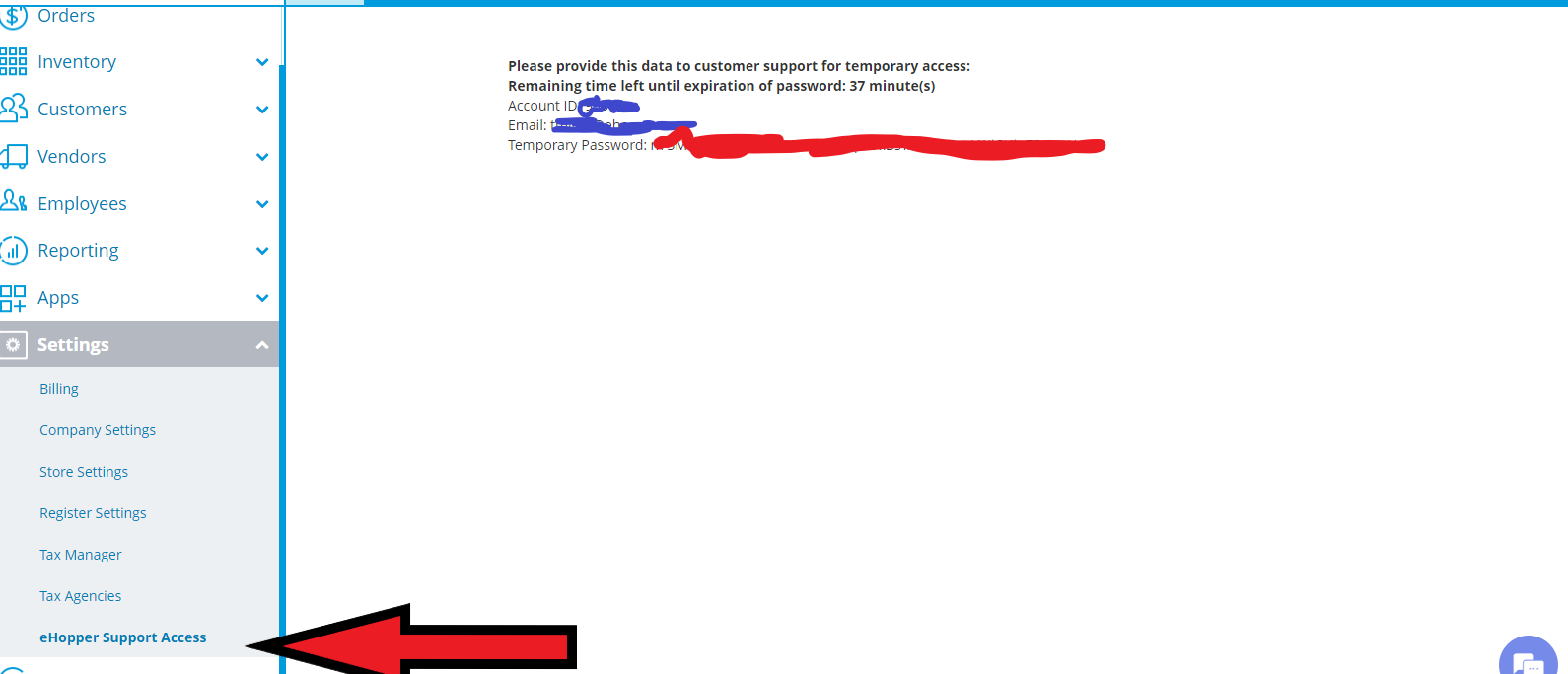 2. Click the Generate Password button.
3. Your Account ID, Email, and the Temporary Password will appear on the screen. You can then contact Customer Support and provide them with this information.
Related Articles

eHopper White Screen Troubleshooting

If you are using a supported eHopper device for your POS app and the app stopped working (white screen), please follow the steps below for troubleshooting, depending on the device you are using: Windows device: Clear cache: 1. open the POS app 2. ...

How to Reset Back Office Password

Overview If you cannot remember your password when logging in to Back Office at bo.ehopper.com, there are two ways to reset it: either through your email or your PIN #. Resetting Back Office Password Through Email 1. On the Back Office login ...

Opening Back Office from POS

Requirements Must have an Administrator or Manager employee role. Instructions 1. Select Back Office in the left navigation menu. If using a Windows device, a separate browser window will open up. If using the eHopper POS app on an Android or iPad ...

Troubleshooting for QuickBooks Connection Error

Overview In case you get a connection error while activating the QuickBooks application from the App Directory in Back Office (as seen in image below), please follow the instructions below in order to have it activated successfully. Instructions 1. ...

Loyalty Reporting in Back Office

Loyalty Report To access, select Reporting--->Loyalty Report in the left navigation menu. In the Loyalty Report, each date that at least one loyalty action occurred appears in a separate row. You can customize which columns you would like displayed ...