Installing an App
1. Go to Apps--->App Directory in left navigation menu.
2. Click on the app you want to install.
3. Click the Install button
Uninstalling an App
1. Go to Apps--->App Directory in left navigation menu.
2. Click on the app you want to uninstall.
3. Click the Uninstall button
Summary of All Apps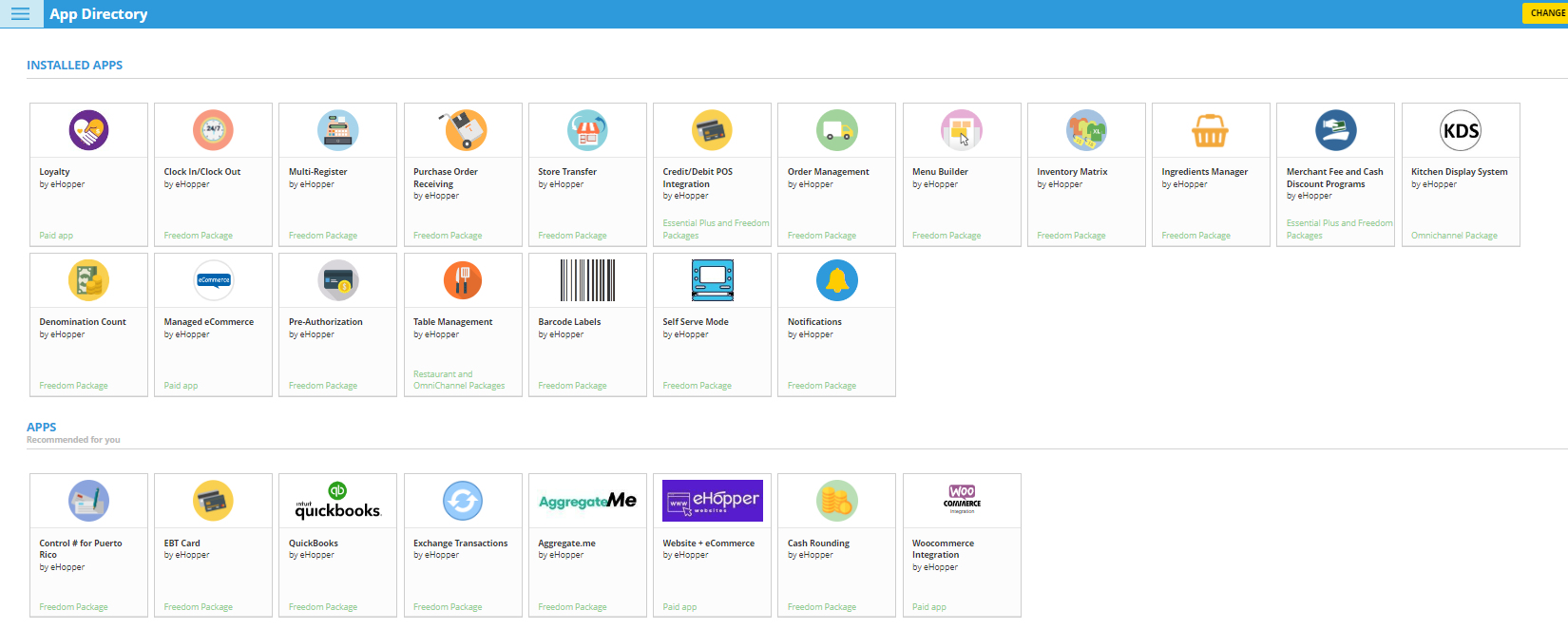 Clock In/Clock Out:

Allows employees to manually clock in and out on the register to record the start and end times of their shift and enables managers to monitor their work shifts, as their activity is automatically synced with Back Office.
Multi Register:

Employees can perform transactions and update orders from any register in store. They will only be able to reprint receipts, however, from the register the order was done on.
Control # for Puerto Rico:

Designed for businesses that seek a seamless method of becoming compliant with Puerto Rico tax laws and regulations.
Store Transfer:

Can easily transfer products from one store to another and keep track of transfers in Store Transfer Report.
Key Benefits Include:
Can use eHopper Partner Merchant Services (A1 Charge) or your own merchant services

Accept any type of payment at any store register

Use of tips

Supports EMV chip, magstripe and NFC



Order Management:

Allows you to organize, edit and oversee all order activity within your business. Can monitor every order from creation to completion, including its order status: 'New,' 'In Preparation,' 'In Fulfillment,' or 'Fulfilled.'

Can also search for specific orders instantly for referencing and checking customer history

Track other information, such as tips given and tender used, and use referral numbers for easier look-up
Menu Builder:

Enhance menu by rearranging the layout of categories and the items within categories on POS catalog screen.

Inventory Matrix:

Use to create products that have multiple attributes. For example, a shirt could be defined by style, color or size. Each combination of attributes is unique, has its own SKU, and can have its own price.
QuickBooks:

Sync QuickBooks Online with eHopper. Automatically import your sales transactions, expenses, inventory, taxes, account charts and more.
Merchant Fee Programs:

Allows participation in the cash discount and surcharge program on eHopper to save money on merchant fees by passing them on to the customer.
Additional features:
Charge as either a fixed currency amount or a percentage of the transaction total
Cash discount and surcharges reporting
Ability to void or refund
Can choose to include taxes in cash discount rate (but not surcharges).
Note: This app cannot be installed at the same time as the Exchange Transactions app and by enabling this app, you must agree to all applicable, laws, rules and regulations for joining the program, including notifying credit card companies and following consumer disclosure protocol.
Exchange Transactions:

Can process transactions where customers return one or more items from a previous order, while also purchasing new items, in a single transaction.

Will be processed as either a partial refund or as a sale, depending on whether the net monetary amount from the exchange is positive or negative.
Cannot be installed at the same time as the Merchant Fee Programs app.
Cannot be processed on Poynt terminals.
Denomination Count:

Allows you to select which bills and coins you want to track and to enter the quantity of each currently in the drawer on the Open and Close Register screens. You can view the quantity of denominations at different periods of time in the Z Report Details screen on Back Office.

Kitchen Display System: With the KDS app you can integrate orders from your POS or eCommerce website with your kitchen, which helps your business to be more efficient and optimized.
Barcode Labels:

Generate barcode labels for products and ingredients, which can then be exported as a PDF and printed.

Optionally enable item names/prices to appear on barcode labels
Select the quantity of each barcode that you would like to print.
Supports the most popular barcode label templates.
Notifications:

Be alerted via email every 24 hours about all items that have reached their minimum quantity numbers, that was specified for each product and for each store.

Includes alerts for inventory items, matrix items, and items with ingredients.
Add email addresses that you would like to receive the email alerts.
The info will also be attached to the email as a PDF report.
Kitchen Display System: With the KDS app you can integrate orders from your POS or eCommerce website with your kitchen, which helps your business to be more efficient and optimized.


Note: The app is only available for OmniChannel users.
Managed eCommerce App: Allow you to easily create your own mobile friendly ecommerce or online ordering website.

Website is created automatically. Works for any business types, restaurants, retail, professional services or more. Choose one of the customized themes that best suits your needs.

Features & Benefits

Get found online, grow your business!
Start selling online
Integrated with the POS inventory
Orders are automatically saved in the POS
Option to use your own domain name
Utilize QR code menu

Website+eCommerce:


All features of the website plan PLUS

Add products, services or menu items

Accept credit cards via Authorize.net, PayPal, Stripe*

Supports eHopper Point of Sale Software

Offer coupons and discount codes

Supports shipping & store pickups

Add valuable business apps
Loyalty Program:

Allows you to i

ncrease sales by allowing customers to redeem rewards through loyalty points.

Set up your own loyalty rules and rewards
Have customers gain points per visit or a specified amount spent
Enable point information to appear on customer receipts
View loyalty reporting
Create customer codes to easily find customers in the system, through a scan or search

The app is free of charge for all OmniChannel users.